BUILDING RESILIENT
BRAND ARCHITECTURE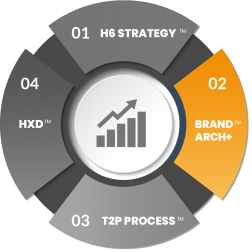 Bring the Business Story, Market Story & User Experience Together
Brands are more than logos and graphics. They exist as experiences, perceptions, and communications among and between not just your customers but your teams and stakeholders as well. Building positive trusted mindshare is an alchemy that requires sophisticated coordination and cohesive alignment of all the parts. Brand Arch+ brings the business story and the market story together in a way that can stand the test of time through the ups and downs of the market & social norms.
Your business needs a better growth engine to keep up with the speed of change.
And that's what we offer.
90 Days to Transform Your Digital Strategic Plan
Let's Start a Conversation