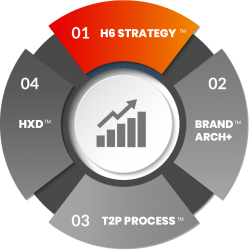 Navigate the digital landscape with an approach designed to keep up with the speed of change.
The weight of your technical decisions can be as simple and treacherous a choice as picking which smartphone platform to use (Android /iOS or wait for Microsoft?). Each choice you make for your business cuts you off from other choices by default. The roads not taken and choices not made are opportunity costs. Choosing to custom code vs. buying an off the shelf platform, could result in your effort being outdated before it's ever rolled out. The speed of change and evolution of business are faster than ever. Navigating the technical opportunity costs requires a method designed to achieve a masterful balance of digital liquidity. This is what H6 offers.
Your business needs a better growth engine to keep up with the speed of change.
And that's what we offer.
90 Days to Transform Your Digital Strategic Plan
Let's Start a Conversation