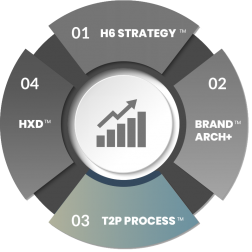 BUILD A CULTURE OF DISCERNMENT
& RELENTLESS SIGNAL FOCUS
Businesses spend on average 20% of their time trying to find things, and even more time zoning out on NOISE.
Noise is perhaps the most common modern business killer of professional business these days. You must uncover what matters and measure it, filtering out the noise to increase your focus, accuracy, energy, and resources towards your goals. Using our T2P process, your teams can filter out the non-essential noise, build a robust, discerning culture, and become relentlessly signal focused.
Data Driven Processes and Decision Making from thought to profit
Your business needs a better growth engine to keep up with the speed of change.
And that's what we offer.
90 Days to Transform Your Digital Strategic Plan